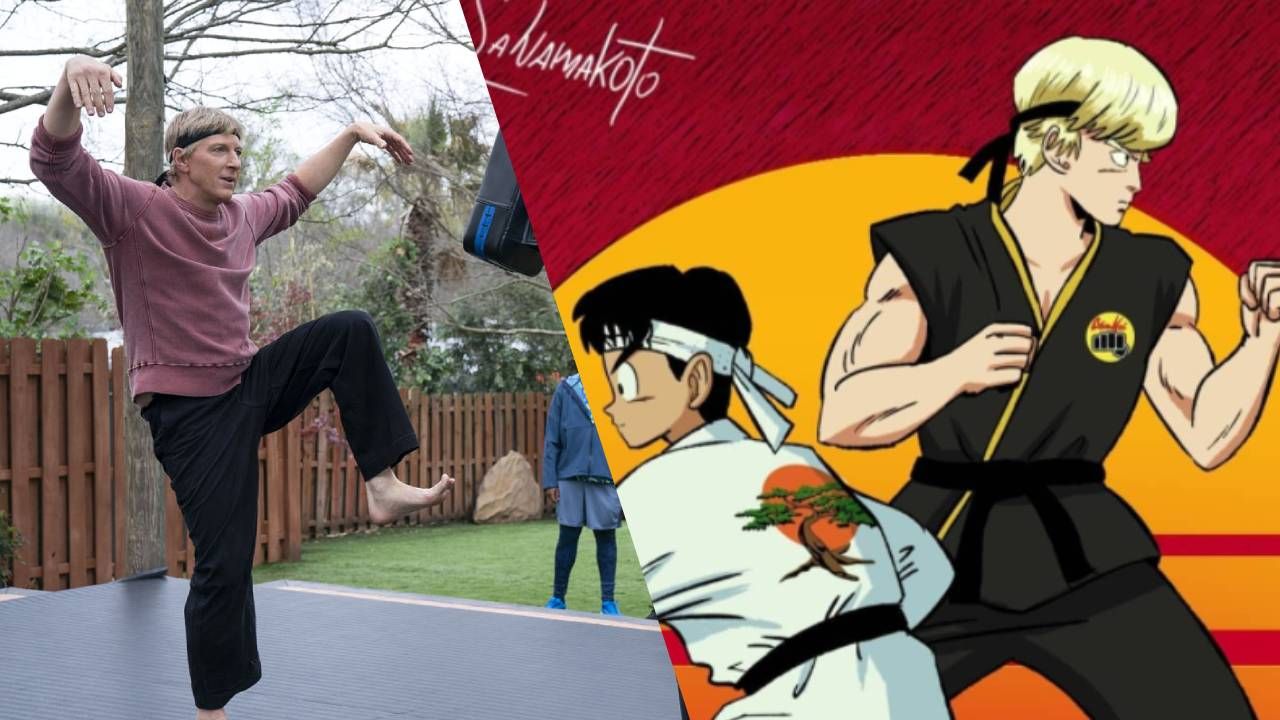 The Netflix series has just released its season 4 with a very good reception. What would it be like in Akira Toriyama's universe?
Cobra Kai has just released its season 4 and, while its students are still assimilating the result of the All Valley competition, there are those who imagine them in worlds completely different from those of karate Kid. The artist and graphic designer Save Makoto is a fan of Dragon ball and has used his skill to transfer the protagonists of fiction, Daniel LaRusso (Ralph macchio) and Johnny Lawrence (William zabka), to the animation universe of Akira Toriyama. We had never thought about this 'crossover', but, looking at Makoto's work, how could it not have occurred to us before?
What Master Toriyama created in the 1980s and 1990s is the ideal environment for Mr. Miyagi's history and values ​​to come to life. In his posts on Instagram you can see how good these three pop culture phenomena are combined in a single image. Do youCobra Kai, karate Kid Y Dragon ball at once? Yes! The illustrations were released between March and April 2021 and had tens of thousands of 'likes', although few seem to us. Makoto defines himself as a "draftsman dragon bolero", making him the perfect candidate for this transformation.
Another character who has been 'Dragonballized' is John Kreese (Martin Kove), the antagonist who does not stop tripping the heroes of history. In the new installment of the Netflix series, he is accompanied by his old friend Terry Silver (Thomas Ian Griffith), who adds an extra level of evil to the story. Although, at the moment, he does not have his own version in the famous anime.
The impact of these two phenomena, that of Dragon ball Y karate Kid, in society it is evident. The two have developed as large franchises with all kinds of products -films, video games, series, etc.-. You may not remember, but karate Kid had its own animated series in 1989, a few months after the premiere of Karate Kid III. The final challenge.
To avoid mistakes, it was titled -again- The karate kid and aired on NBC's Saturday mornings for three months. Total, 13 episodes that keep its two main characters, Daniel LaRusso and Mr. Miyagi, but they change the environment where it develops. Instead of the karate tournament, the two go on an adventure to retrieve an ancient Chinese amulet. that gives superhuman powers to whoever manages to control it. It was stolen from an Okinawan shrine and, until now, everyone who has owned it has ended up being corrupted.
It was originally planned to have 65 episodes, but its existence was drastically shortened. The animation is almost an anecdote in the franchise, since it does not even count in the canon of the saga, as declared by Jon Hurwitz, creator of Cobra Kai, On twitter. "The cartoon of karate Kid It's not canon, but there's a nod to it in season 3, "Hurwitz concluded. The reference to it is the shrine, which appears briefly at Chozen Toguchi's (Yuji Okumoto) dojo.
It is difficult to find the animation, so you always have to enjoy the season 4 of Cobra Kai on Netflix.
If you want to be up to date and receive the premieres in your mail, sign up for our Newsletter