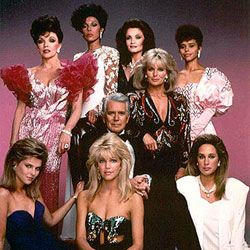 Intrigue, jealousy and power in a series around a wealthy Denver family, the Carringtons, and their confrontation with the members of another corporation, the Colbys, another ambitious clan with which they compete in the world of oil business.
The story begins when Matthew Thomas Blaisdel (Bo Hopkins, 'Shade: Assassin's Game'), one of the workers of the powerful Denver Carrington Company, returns to the city after a period of absence. There he meets his wife Claudia, a beautiful woman who has just passed a season in a psychiatric hospital, and their daughter. But who Thomas really wants to reconnect with is Krystle (Linda Evans), a secretary with whom he had an affair while his wife was in the hospital. However, reality hits him when he discovers that Krystle is going to marry his boss, the all-powerful businessman Blake Carrington (John Forsythe, 'Charlie's Angels'). Determined to challenge the man who has stolen the woman he loves, Matthew begins to exploit oil wells on his own, to rival Blake's great company. Joining their cause is Steven Carrington (Al Corley, 'Edmond'), Blake's gay son disowned by his father.
As Matthew struggles to bring down the Carringtons, Krystle will have to face his new life as Blake's wife, as well as constant confrontations with Blake's daughter, Fallon (Pamela Sue Martin), a spoiled child with a marked Electra complex. As if that were not enough, Claudia's threat will weigh on his head, as Matthew's wife knows of her husband's relationship with the new Mrs. Carrington.