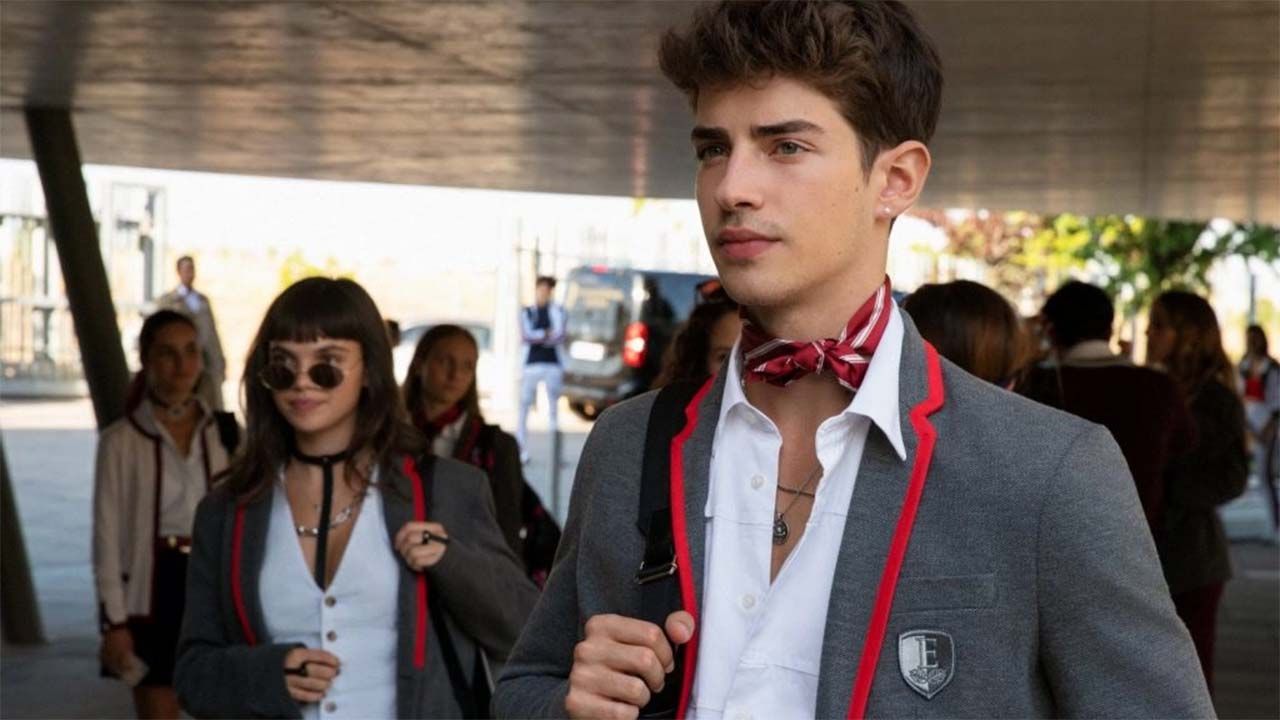 The actor plays Patrick, one of the new students who arrives in Las Encinas in the new installment. Premiere: June 18 on Netflix.
Several new faces join season 4 of Elite to give Las Encinas a bit of life now that several of its protagonists have left, never to return. We will miss some of the most veteran, such as Carla (Ester Exposito), Lu (Danna Paola) or Nadia (Mina El Hammani), but the time has come to give the welcome fresh blood in the form of new students that will quickly alter the tranquility of those who are still studying at the elitist school: Guzmán (Miguel Bernardeau), Samuel (Itzan Escamilla), Omar (Omar Ayuso) and Ander (Arón Piper).
There are some additions to the adult cast, but it is the youngest signings who arrive to turn everything upside down in the new episodes. On the one hand, Mencía (Martina Cariddi), Ari (Carla Díaz) and Patrick Blanco (Manu Ríos), the children of the new director, while a member of French-Spanish royalty, Phillipe, played by Pol Granch, also arrives in Las Encinas. .
'Elite: Brief Stories': 6 unknown details of season 4 of 'Elite' that has already revealed the 'spin-off'
Each of them, in their own way, will disrupt the life of one or more of the most veteran, while, as a whole, they will completely alter the day to day of the school and will lead to a new and terrible event with a victim included. Thus maintaining the DNA of Elite intact.
The only son of the new director, Patrick Blanco, comes directly to captivate Ander and Omar, who are the longest-lasting couple and who, season by season, overcome new problems, showing that their love is above all. Will they also be able to survive Patrick?
This is Patrick, a student who gets everything he wants and who … loves Ander and Omar
Last third season there were two stones on the road that Ander and Omar they found in their once idyllic relationship. On the one hand, the fact that the director's son had cancer and was going through very emotionally complicated moments and, on the other, Omar's desire to party and the inevitable attraction he felt towards a new student from Las Encinas. The excesses and the night could not separate them, but perhaps it is Patrick who does it … Or not.
At the moment what we can see in the trailer of the fourth season of Elite is that there will be trouble between the three, but perhaps not both members of the couple are comfortable with the fact that there is a new person in their relationship. "What happened when they arrived? They rotted everything"Ander responds in the advance on his perception of the arrival of the new ones.
Who is Martina Cariddi, the new face of 'Elite' who lives passion with Rebeka and stars in the murkiest plot of season 4
Patrick is the twin brother of Ari, played by Carla Díaz, and, while she is her father's right hand and always perfect, he he tends to go quite his way and not get too wet in family problems. That they are not few and usually come from the hand of Mencía, his little sister, who is rebellious and always turns against all of them.
Also, Patrick is uA daring and seductive young man, who does not hesitate to make clear what he likes as soon as he arrives in Las Encinas: And what he likes is Ander. We will discover how his will end throughout the new season, but the trailer leaves no room for doubt: the scenes between the three boys promise to be the most torrid.
And who is Manu Ríos, the one in charge of giving life to Patrick?
The person in charge of embodying Patrick and one of the most outstanding new additions to the cast of Elite It is the young interpreter Manu Ríos, who will not go unnoticed by the audience. He is handsome and has a captivating look that he knows how to transfer to his character, but, until his arrival in the famous Netflix series, he was not a familiar face on the interpretive scene. Yes in social networks and because of his other artistic side, that of being a singer.
His career as an interpreter is occasional, but had a recurring role, that of Mauri, in several episodes of the famous series Pepe's Chiringuito. Even so, we have been able to see him being part of the musical spaces You are worth it Y Sing me how it happened, in which He has acquired great fame, reaching more than 5 million followers on Instagram. His career in the entertainment world began at an early age, when, at just 9 years old, he already participated in a reality show in Castilla la Mancha.
In addition to his popularity on Instagram, Manu Ríos has great success on his YouTube channel, where he shows his talent to more than one and a half million subscribers. Likewise, Ríos has also shown ease on the stage by participating in various musical performances.
With only 22 years old, Manu Ríos is already a true star, although in his networks, in addition to very careful photos, he tries to show his most simple and personal part.
You can get to know Patrick in depth with him season 4 premiere of Elite on Netflix next June 18.